The team is proud to announce the release of Linux Mint 8 "Helena" LXDE Community Edition RC1.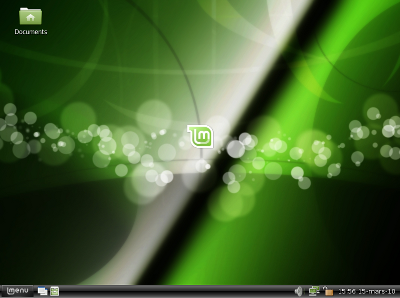 Quick steps:
Introduction to Linux Mint 8 LXDE:
Based on Linux Mint 8 Main Edition, Linux 2.6.31, Openbox 3.4.7.2, PCManFM 0.5.2, and Xorg 7.4, Linux Mint 8 LXDE Edition features a complete and familiar desktop experience while being low on resource usage and is suitable for a good variety of older hardware.
For a detailed overview of the new features and improvements included in Linux Mint 8 LXDE, please read "What's new in Helena LXDE?".
Benchmark:
Here's a quick benchmark comparing this edition to the Fluxbox and Xfce editions of Linux Mint. All 3 editions were tested on the same hardware (a computer with 384MB RAM).
RAM usage at idle:
Fluxbox: 131MB
LXDE: 141MB
Xfce: 154MB
Maximum RAM usage during the installation:
Fluxbox: 235MB
LXDE: 246MB
Xfce: 262MB
Boot time from Grub to the login manager:
Fluxbox: 31.16 seconds
LXDE: 26.79 seconds
Xfce: 26.46 seconds
Boot time from the login manager to the desktop:
Fluxbox: 3.32 seconds
LXDE: 3.77 seconds
Xfce: 9.63 seconds
System requirements:
x86 processor
256 MB of system memory (RAM)
3 GB of disk space for installation
Graphics card capable of 800×600 resolution
CD-ROM drive or USB port
Important information and known issues:
As an RC (Release Candidate) this release is targeted at developers and beta-testers who want to help Linux Mint find and correct bugs before the stable release. Please do not use this release as your main desktop. For a complete list of known issues read the Release Notes.
Feedback and bug reports:
Please report any bug you may find via the Linux Mint 8 LXDE RC1 Bug Thread and give us your feedback on this release by posting a comment right here on the blog.
Download Linux Mint 8 LXDE RC1:
You can download Linux Mint 8 LXDE RC1 via torrent or via HTTP:
Size: 669MB LiveCD
MD5Sum: b66991424a718eeccc972c5509a20a5c
Torrent download: http://www.linuxmint.com/torrent/LinuxMint-8-LXDE-RC1.iso.torrent
HTTP download: http://www.linuxmint.com/edition.php?id=51
Africa:
Asia:
Europe:
Northern America:
Oceania:
Enjoy!
Have a lot of fun testing this release candidate and let's all hope it will help us make a great stable release.