The team is proud to announce the release of Linux Mint 7 "Gloria" XFCE.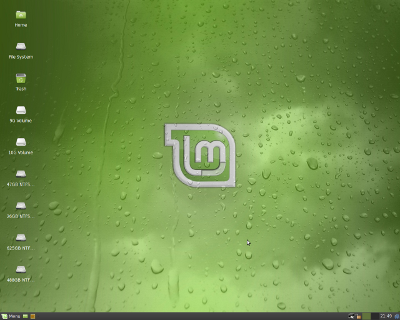 Quick steps:
While it's downloading look at the overview of the new features and make sure to quickly go through the known issues.
After the ISO is downloaded verify the MD5.
Burn the ISO at low speed and enjoy testing Linux Mint 7 XFCE.
Introduction to Linux Mint 7 XFCE:
The XFCE Community Edition aims to provide a version of Linux Mint which uses the XFCE desktop.
For a detailed overview of the new features and improvements included in Linux Mint 7 XFCE, please read "What's new in Gloria XFCE?".
System requirements:
A minimum of 3GB of free space and 256MB RAM are needed. For a comfortable experience we recommended to have at least 512MB RAM and 10GB of free space.
Important information and known issues:
For a complete list of known issues read the Release Notes.
The root password is now set as the same as the one chosen during the installation.
If you're using Mint tools in other distributions, make sure to turn off the adjustment system by editing /etc/linuxmint/mintSystem.conf.
Download Linux Mint 7 XFCE:
You can download the XFCE Edition via torrent or via HTTP:
Size: 694MB LiveCD
MD5Sum: cee9c5fe119d749cf30b82e0a53b5a75
Torrent download: http://www.linuxmint.com/torrent/LinuxMint-7-XFCE.iso.torrent
HTTP download: http://www.linuxmint.com/edition.php?id=43
Asia:
Europe:
Northern America:
Oceania:
Upgrade instructions:
Upgrade instructions will be published in a few days.
Feedback, ideas, bug reports:
We look forward to reading your reviews and your feedback. If you find bugs, don't hesitate to report them at https://bugs.launchpad.net/linuxmint and if you have ideas that you would like implemented, don't hesitate to register blueprints at https://blueprints.launchpad.net/linuxmint
Enjoy!
Enjoy this new version of the XFCE edition and don't hesitate to send us your feedback. Congratulations and thanks to the maintainer, Merlwiz, for the excellent work done on this release.
Have a lot of fun and thanks for using Linux Mint.